Lohri is a Punjabi festival celebrated with great enthusiasm in the states of Punjab, Haryana, Himachal Pradesh, Delhi and to some extent in Jammu. It generally falls in the month of Paush or in the Gregorian month of January. It is usually celebrated on January 13 every year. It is celebrated a day before Makar Sankranti. People offer prayers to Sun god thanking him and asking for his protection.
People generally celebrate this festival by burning a bonfire in their courtyards and they throw food items like peanuts, popcorn, jaggery, etc. into the fire. People wear bright colored clothes, and they sing and dance around the bonfire until the fire dies out. It is celebrated to mark the winter solstice and the arrival of long days. People sing many folk songs related to the festival such as Dulla Bhatti which has some folk tales associated with it. The families which have newlyweds or newborns celebrate this festival with much greater enthusiasm.
Does Praying to Sun God really help?
During lohri, farmers offer prayers to Sun god and thanking him for his presence and helping the crops to grow. This festival is generally celebrated before harvesting the winter crops. Are we sure that after praying to Sun god our crops will really be protected and we could get a good harvest? There have been instances where even after celebrating Lohri, farmers have lost their crops, suffered losses, and destruction of their farms. There have been cases where farmers have lost their crops due to many reasons such as bad weather, untimely rainfall, hailstones, etc. Did we ever think that why these incidents took place even after praying to all the gods and celebrating lohri? Where this should not have been the case since the festival was celebrated and the gods were offered prayers and offerings.
Why do these incidents take place?
These incidents take place because we are not praying to the supreme Almighty for, He is the only one capable of getting us rid of our sufferings and miseries. We are living in a very wrong place. Somebody's leg is broken; somebody is suffering from cancer; someone's son passes away; someone's daughter passes away; someone's entire family gets destroyed due to accident. Are these the activities of God? All Holy Scriptures including Sri Guru Granth Sahib Ji prove that only one Supreme Almighty can give mankind true happiness. No celebration of festivals or worshipping these demigods can give you happiness as they are not authorized to change your destiny. Generally, people face sufferings because of the bad deeds in their previous births. So, if someone is destined for a tragedy, these demigods can render no help in this regard. Only true Almighty can alter our destiny and remove all the sufferings and tragedies from our life.
Who is that Supreme Almighty?
When we think of God the only thing that comes to our mind is someone who is benevolent, capable of loving unconditionally, and ever forgiving. Now hold on your thoughts! Take a walk down the memory lane and see if you ever experienced this side of God? I am sure most of you would not be able to differentiate between the true God and a demigod. Let me make it easy for you, have you been happy all through your life or you did have some hardships? If you have gone through hardships then you did not experience True God, for He would not have let you face those at all. Now the question arises is ― Who is that true God?
There are many evidences in all the Holy Scriptures about Him to be proved as true Almighty.
We all are familiar with Shri Guru Nanak Dev Ji, and he certainly needs no introduction. There are many places where Shri Guru Nanak Dev Ji has given a hint about that Supreme Almighty and that His name is Kabir. So, let's take a look upon those evidences and try to find out if that ever-loving God is Kabir; whom we have been searching all our lives.
● It is written in Sri Guru Granth Sahib Ji on page number 24 "Faahi Soorat maluki vesh| e thagwara thaggi desh|| Khara siyaanaa bahuta bhaar| ye dhaanak roop raha kartar||"
It states that see God is sitting here in the form of a weaver.
● It is further written in Sri Guru Granth Sahib Ji on page number 721, "Ek arj guftam pesh to dar gosh kun kartar|| hakka Kabir karim tu beaib parwadigar||"
● It is written in Guru Granth Sahib Ji on page number 731 "neech jaat pardesi mera, Khin aave til jaave|| jaaki sangat Nanak rehenda, kaise mooda paave||"
● Bhai Bale wali Janam Sakhi; it is printed from Bhai chattar Singh, Jiwan Singh Amritsar, on page 197 and 198, "Nanak aakhe rukandin sachcha sunhu jwab|| charon kunt salam kar tan tohe hui sawab||", "Khalik adam sirjiya aalam bada Kabir|| kaaim daaim kudrati sir peeran de peer||"
● It is clarified in Quran Sharif Surat-e-Furqan; aayat 52-59, that there is an Allah named "Kabir". Allah Kabir means Great God. Giver of Knowledge of Quran asks us to ask an enlightened saint to know about Supreme God.
● There are evidences in Vedas that Almighty never takes birth; He ascends above in embodied form and descends on earth in an embodied form; He is nurtured by the milk of maiden cows; He gives true spiritual knowledge in the form of poetry and is recognized as a great poet. Give it a thought which god of ours has done all this? Only Kabir Saheb from Kashi did all these spectacles. There is evidence mentioned in Kabir Sagar regarding the same.
It is proved from above verses that the name of Supreme Almighty is Kabir.
How to attain Him?
There is a specific way to attain Him which is mentioned in Bhagavad Gita and is also indicated by Shri Guru Nanak Dev Ji
● For instance, in Shrimad Bhagwad Geeta, 23rd verse of chapter 17, it is said, "Om tat sat iti nirdesh brahmne trividh smarte…"
It indicates that true Almighty can be attained by chanting these three mantras but these are coded. Only an enlightened Saint will be able to decode it and give the correct mantras.
● In Adi Guru Granth Saheb ji's page no 1171, it is written, "Soi guru pura kahave, jo do akhar ka bhed batave|| ek chhudhave ek lakhave, ta praani nij ghar ku jaave||"
● Then it is said, "je tu padhya pandit, bin doye akhar diye naavan, pranvat nanak ek langhaye, je kar sach samaavan"
Who can help us attain Supreme God?
In today's world, there is only one enlightened Saint on earth and His name is Sant Rampal ji Maharaj. He is only one who is imparting true spiritual knowledge and is unveiling the deep hidden secrets from all our Holy Books which were not told to us till date.
There are many more evidences, and to know about them and attain Almighty please listen to the spiritual discourses of Sant Rampal ji Maharaj or simply visit www.supremegod.org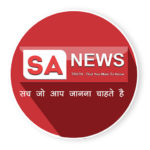 SA News Channel is one of the most popular News channels on social media that provides Factual News updates. Tagline: Truth that you want to know