Most of the people around the world are focusing on the importance of Valentine's Day, but here in this blog we are presenting a different opinion about present scenario. Every year, the fourteenth day of the month of February has millions across the world presenting their loved ones with candy, flowers, chocolates and other lovely gifts. This day is mainly important for the couples who are eager to celebrate their relationship and the joy of their togetherness.
History Of Valentine's Day.
There are some legends that are our source for the history of Valentine's Day. Valentine is a name of Saint who lived in Rome in the 3rd Century, he was Catholic Priest. At the time of Valentine's life, many Rome were converting to Christianity, but the Emperor Claudius ll was a pagan and create strict laws about what Christians were allowed to do. Claudius believed that Roman soldiers should be completely devoted to Rome and therefore passed a law preventing them from marrying.
The ban on marriage was a great shock for the Romans. But they dared not voice their protest against the mighty emperor. St Valentine began to marry these soldiers in secret Christian ceremonies and this was the beginning of his reputation for believing in the importance of love. Eventually Valentine was found out and jailed for his crimes against Claudius. While imprisoned, Valentine cared for his fellow prisoner and also his jailor's blind daughter. Valentine actually sent the first "valentine greeting himself after he fell in love with a young girl who visited him death, it is alleged that he wrote her a letter signed "From your Valentine" an expression that is still in use today. Valentine was executed on 14 February in year A.D. 270. So that's why valentine is associated with the expression of love and this why it is celebrated on 14 February every year.
Week Days Of Valentine's Day 2019.
Love is celebrated for the whole week. Celebrations start with Rose day on 7th Feb followed by Propose Day, Chocolate Day, Teddy Day, Promise Day, Hug Day, Kiss Day and last Valentine's Day. Couples give gifts to each other, go out on dates, dinners etc. Valentine's Day is celebrated widely in United States, Canada, Mexico, the United Kingdom, France, Australia and now in India as well.
Real Idea Of Love On This Valentine's Day 2019.
Expression of love is surely a part of Indian culture but celebration of Valentine's Day was alien to US. Indians started celebrating it after 1990s. It has been possible only by the influence of television serials and movies, in which Western culture is displayed with extreme pride. The Bollywood movies are directly influencing the teenagers and are provoking them to indulge in the fake ideas of expression of love. This is having a very bad impact on youth. The Valentine's Day is promoting vulgarity, party culture and sex abuse in teens. It is merely a wastage of time and money.
The people have forgotten the main idea of this day. In reality, valentine is mainly associated with marriage. It does not mean you change your valentine every year like people especially teenagers are doing these days. They keep searching for new partners for every Valentine's Day. The idea of true love has been destroyed. By this new trend, couples are more inclined to love marriages even without the consent of their parents. Couples run away from their home with their lover. But what happens after that?
They both live the life of misery. If the parents get to find them, girl's relatives murder the boy and boy's relatives kill the girl. Both the parties go to jail. That love destroyed two families. It made their life worse than hell. What's the use of taking such hardship on ourselves? Parents are more worried about their children's marriage. And we should never forget the struggle and hardships of our parents that they have beard in our upbringing. In the love of a new partner, we should never forget the unconditional love that our parents have given us.
Love is another name of trust and respect. Our parents should be our foremost priority. The parents have so much expectations with their children. So, instead of wasting time and money on the fake love which has no grounds in reality, the young boys and girls should focus on their academic achievements and their careers.
SPECIAL BRAINSTORM On Valentine's Day 2019.
The expression of Valentine's Day is mainly promoting the acts of vulgarity in youth. Public expression of love between an unmarried boy and an unmarried girl has always been forbidden in our society. "Everything is fair in love and war" has become a common dialogue among young children who cross their limits by indulging themselves in fake love stories.
Entertainment is the only motive in celebration of this day (Valentine's Day 2019). The perspective by which some erotic minded people celebrate this day, they are insulting St Valentine too. The idea is the 'celebration of love', then why only love for the partner? And why not the love for our parents, our family and the people who really care for us.
We as intelligent individuals need to understand the concept of love in such a way that it is not limited to our partner but also our parents and family deserve love too. We should thank God for giving us such a beautiful life, in which we can think and understand what is good and what is bad for us. We must focus on our real aim of attaining salvation with this human life. We have got this human birth after taking so many births of other species. So, we need to find the right path of worship that is mentioned in our Holy Scriptures. That way of worship is being told by Spiritual Leader Saint Rampal Ji who is directing humans towards the right way of living.
This article has been inspired by book Jeene Ki Raah, written by Jagatguru Sant Rampal Ji.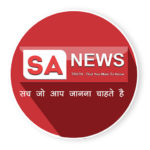 SA News Channel is one of the most popular News channels on social media that provides Factual News updates. Tagline: Truth that you want to know