Last Updated on 27 June 2022, 10:41 PM IST | Maghar Story: The Supreme God appears on the planet Earth in all four eras to guide His souls who in ignorance worship Brahma Ji, Vishnu Ji, and Mahesh (Shiva). The Supreme Almighty Kabir Saheb descended in Kashi, a city of Uttar Pradesh province in India in 1398 AD. He described SatGyan and bestowed Sat-Bhakti to a number of Saints and disciples. After completing His divine work, He ascended back to Satlok in 1518 AD. Today Sant Rampal Ji Maharaj is representing Him and giving the eternal knowledge and Naam Diksha (Initiation)
Kabir Saheb's Incarnation (Avtaran) on Earth
In Kalyug on the full moon day in Hindu Jyeshta month, Samvat 1455 (1398 A.D.), Supreme God Kabir Saheb descended from Eternal Abode Satlok. He incarnated in the form of an infant, and took a position on a lotus flower in the Lahartara lake in Kashi city. Neeru and Neema, a childless Muslim weaver (Julaha) couple, brought Him home. Neeru-Neema were Brahmins by birth but were converted into Muslims under unusual incidents.
They adopted a tiny cloth weaving profession for their livelihood. The infant didn't eat anything for 25 days. Seeing the state of the infant, Neema prayed to her God Shiv. Shiv came there disguised as a Sadhu. The infant asked Shiv to advise them to bring a maiden cow for nurturing Him with milk. The same was followed by Neeru. Since the parents were weavers, Supreme God Kabir worked as a weaver to show us that devotion should be done along with earning for livelihood.
The Supreme Power Kabir Saheb Ji Disseminated Satgyan for 120 Years
Kabir Saheb started propagating His true spiritual Knowledge at the age of five. He acknowledged Swami Ramanand as His Guru just to demonstrate the Guru – disciplic succession, but in reality Swami Ramanand was His disciple.
Almighty God Kabir stayed at Kashi and strode at distant places across India to spread awareness towards human life's real purpose. He spent 120 long years on the planet Earth. One day He intimated the devotees about renouncing His body at Maghar.
Maghar Story: Kabir Saheb Get Set to Depart to Satlok
Why did Kabir Saheb choose Maghar? Because contemporary Hindu preachers propagated the belief that those who die in the city of Kashi go to heaven on the other hand those who die in the town of Maghar take their next birth as a donkey. To refute this belief of the ignorant, Kabir Saheb decided to go to the town of Maghar. He said, "I shall die in Maghar and let the astrologers match their reference manual panchang to know the place where I go, whether I will go to hell or Satlok, an abode far above heaven." This news made people of both the religious communities congregate at Maghar in thousands, and some accompanied The Supreme God Kabir in His journey from Kashi to Magahar.
Dried Up River Aami Started Flowing With Kabir Saheb's Blessings
After Kabir Saheb arrived at Maghar, Bijali Khan Pathan enquired with his SatGuru if He would prefer to take a bath after a long journey. The reader would know that Kashi to Maghar distance is approximately 200 kms and must take three odd days to complete a journey on foot.
On this, Kabir Saheb expressed a desire to take a bath in the flowing water. Bijali Khan replied humbly, "There is no flowing river in the near vicinity and the only river Aami has dried up due to the curse of Lord Shiva. Your Das (Servant) has made arrangements for some water. There is an arrangement for your bath. There is no water for bathing of people who came along with you. But your Das has made arrangements of drinking water from outside for all of them." Kabir Saheb advised Bijali Khan to take Him to the river site.
Maghar Story: They reached the bank of the river Aami. Kabir Saheb signalled and the river started flowing full of water. Kabir Saheb took a bath in the river Aami along with all His followers. For readers' knowledge, the Aami river is flowing even today. Everyone present there hailed the occasion and greeted SatGuru.
Hindu and Muslim Were Adamant to Cremate As Per Their Customs
Kashi was under the reign of King Bir Singh Baghel while Maghar was under the reign of Nawab Bijali Khan Pathan and both were Kabir Saheb's disciples. Bir Singh Baghel came along with his army to accompany Kabir Saheb with the intention to claim His dead body for cremation as per Hindu rites at Kashi. Bir Singh Baghel was prepared to fight with Muslims if they did not allow him to do so.
Maghar Story: The other side at Maghar, Bijali Khan learnt that Kabir Saheb was coming to Maghar. He made all necessary arrangements of food for his SatGuru and the followers. He instructed his helpers, "You keep the army ready. We shall perform burial of Kabir Saheb's body as per our Muslim customs."
Hindu and Muslim Were Resolute Over Custody of God Kabir's Body
When they came back from the river, both the king Bir Singh Baghel and men on one hand and the Nawab and his men on the other, started arguing among themselves as to who would take possession of the corpse for the final rites. The Hindu and Muslim followers were resolute for a fight. Hindus were firm on cremating Kabir Saheb according to their Hindu practices by placing the body to flames, whereas the Muslims were rigid on a burial according to their conventional dictates.
Maghar Story: No side was ready to compromise on the matter of their beloved religious preacher to cremate according to some other religious tradition. The initiated disciples were becoming uncomfortable with this rare chaos spread amongst them.
Maghar Story: Kabir Saheb Showed the Way to Divide the Remnants
When it was time to depart to Satlok, God Kabir Ji reached where the necessary arrangements were made. The omniscient Kabir Saheb knew everything, still, He asked the two kings Bijli Khan Pathan and Bir Singh Baghel, "Why have you brought your armies here?" Both were embarrassed and lowered their necks. Those, other than the disciples – not initiated (Naam Diksha) by SatGuru – said to Kabir Saheb, "After your soul's departure from your body, we will cremate your body according to our religion, even if we have to fight for it."
On this, God Kabir Saheb Ji scolded everyone and said, "Is it that I have taught you in so many years?" Also explained that there is no difference between burial and burning. After death, the body becomes dirt and mingles in the soil itself. All listening to Kabir Saheb preferred to observe silence at those moments, but inside their mind they were thinking of taking possession of the body soon after the Supreme Soul's departure.
Also Read: 23 February-Kabir Saheb's Ascent to Satlok (Maghar Leela) | Saint Rampal Ji Maharaj
Kabir Saheb visualized the extent of the future conflict in advance, a battle between the Hindus and Muslims that might take the shape of a huge civil war. Kabir Saheb suggested the people present there to cut His dead body into two equal parts but do not fight with each other. Kabir Saheb asked for bringing two sheets of cloth. He instructed both the kings to divide the leftover in between the two sheets into two parts. He asked to spread one on the floor and layed down on it while He used the other one to cover Himself.
Maghar Story: No Corpse, Only Fragrant Flowers Found
While Kabir Saheb was leaving this planet and was ascending back to satlok, He made a divine announcement to the flock present at Maghar, "I am going to Satlok which is far above heaven." The EtherVoice also stated, "There is no body in between the two sheets." The sky and the land surroundings were filled with the brighter shine of a divine light.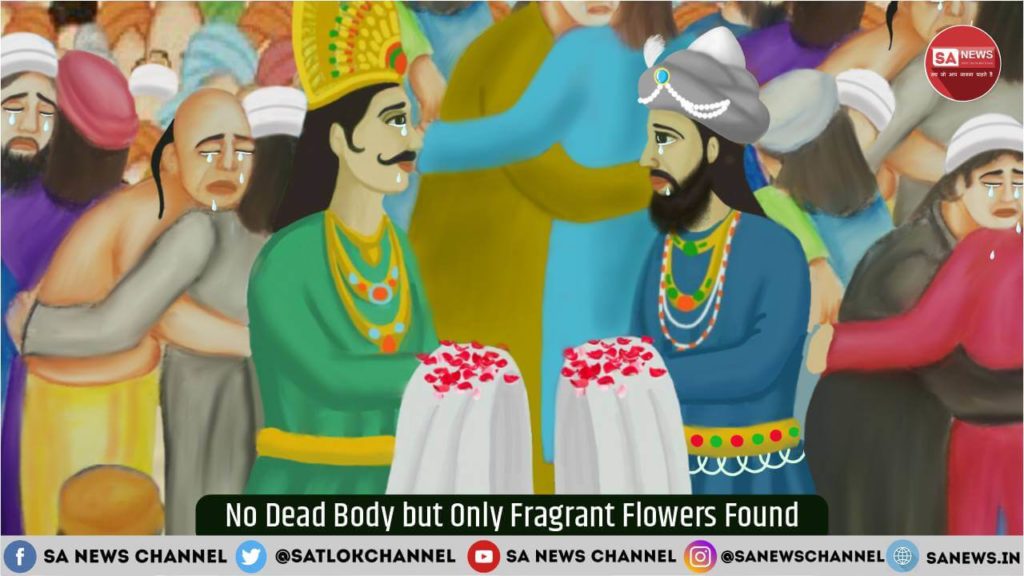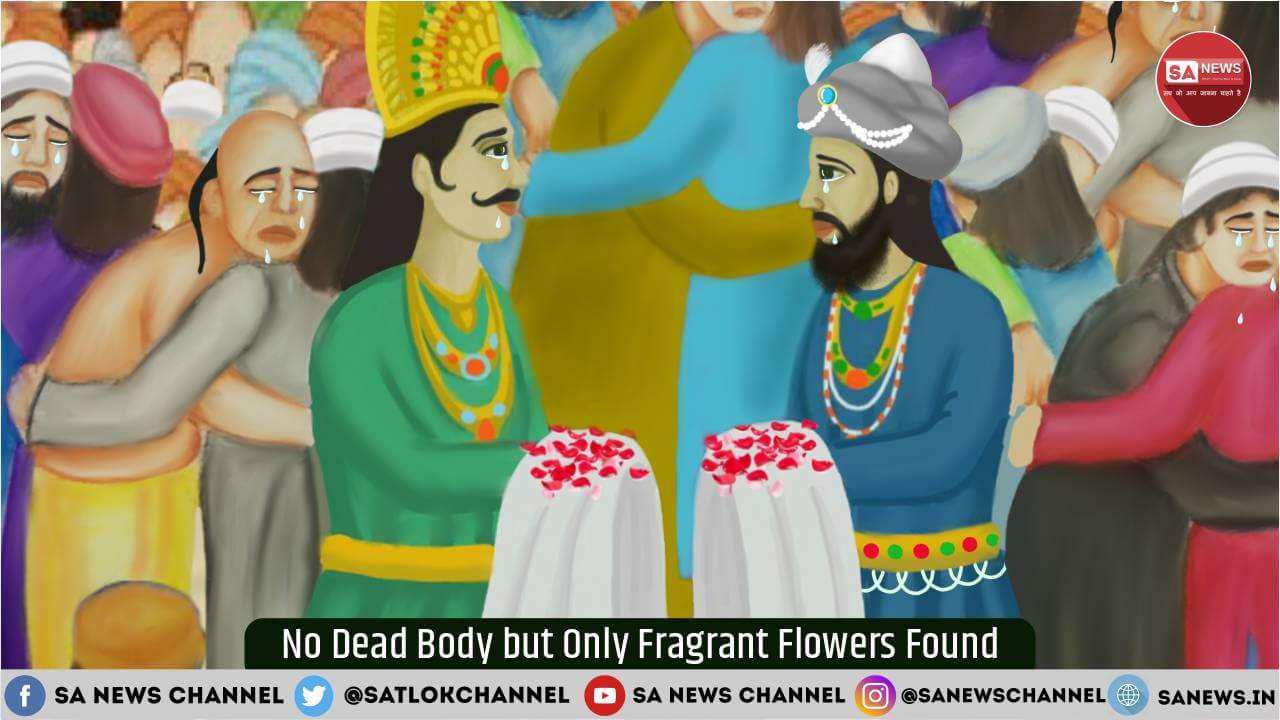 People saw in astonishment a bright effulgent body of Kabir Saheb moving upward into the sky. Readers would remember that Kabir Saheb's body was a visible human-like body, not formed by the union of humans, not made up of the five elements but one element of light. When the devotees opened out the sheet they found fragrant flowers lying between the two sheets. Kabir Saheb together with His body left His beloved disciples and admirers and moved back to His permanent dwelling place, Satlok.
Maghar Is Almighty Kabir's Communion Place
It was the emotional moment for every devotee when Kabir Saheb was moving away from this universe, all present there cried bitterly as if they had lost their own parents. All of them were hugging one another like orphans. The Supreme Kabir Saheb ended the enmity between the Hindu and Muslim communities by His leela (Divine Play).
Both the kings divided the flowers, took them in each sheet. Bijli Khan Pathan donated 500 Bigha land each for both establishments which Hindu Management Committee and Muslim Management Committee managed separately. Memorial tombs were built on land by the Hindus and Muslims just 100 meters away from each other in the town of Maghar. The Hindus and the Muslims still live in love and harmony as if they are children of the same parents even today after passing five centuries at Maghar.
Bir Singh Baghel took a few flowers to Kashi and made a tombstone in Kabir Saheb's memory at Kashi as well. This is how Kabir Saheb left this planet. He did not die as such… He simply left. This event proves that He was not a normal human being but the Supreme Almighty.
Maghar Story | The Almighty Descends to Rescue Devotees From Maya & Kaal Brahm
Holy Veds reveal that the Satya Purush (Param Akshar Brahm) Kavirdev manifests on earth to impart Sat-Bhakti to pious souls. He comes in human like body and returns with body after performing His divine act in two ways:
Holy Rigveda 10:4:3 reveals, Almighty God never takes birth from a mother's womb. In all four yug, He appears as an infant on a lotus flower in a water pond surrounded by a forest. He is nurtured by maiden cow's milk. He is called Narayan with the addition of two words, Naar means water, and Aayan means one who comes.
The Supreme Almighty appears in Jinda Mahatma's guise and imparts knowledge to His virtuous souls. Those enlightened souls disseminate knowledge to destroy unrighteousness.
The Enlightened Souls Are Blessings to us of the Supreme God
The enlightened souls are blessings to us the Supreme God. Enlightened Sant Dadu Saheb, Sant Garibdas Saheb, Sant Malook Das Maharaj, Sant Ghisa Das Maharaj, Sant Dharamdas Maharaj and Guru Nanak Dev were among several Incarnations who were blessed by Almighty God Kabir. All of the Saints and the Supreme God Kabir sing the Glory of the Satpurush to the people.
Supreme God Kabir says –
"Chaaron yug mein Mere Sant pukaare, kuk kahya Hum hel re.

Heere maanik moti barse, ye jag chugta dhel re."
God Kabir is the Eternal Supreme God. He is beyond old age and is immortal. The same Supreme God comes Himself as a guest for limited time in this world to bestow His way of Eternal Devotion (Sat-Bhakti)
Who Is the Present Day Incarnation of The Supreme God?
Almighty God Kabir appeared to Saint Rampal Ji Maharaj at 10.00 AM in 1997. God Kabir Saheb authorised Sant Rampal Ji Maharaj to deliver the true spiritual knowledge to all souls and to provide salvation mantras, "Satnaam" and "Saarnaam" to the whole world, the evidence of which is found in Shrimad Bhagwat Gita – Chapter 17, Verse 23. These mantras have been mentioned as "Om-Tat-Sat". Tat and Sat being indicative, which can be decoded only by the Real Saint, who is none other than Sant Rampal Ji Maharaj. To learn in-depth spiritual knowledge listen to His sermons at Satlok Ashram YouTube Channel and read the Sacred book Gyan Ganga.
How Can the Souls Attain the Supreme Almighty?
All souls in the human form can attain Supreme Almighty by following the True way of worship guided by enlightened Saint "Rampal ji Maharaj" from Barwala-Hisar, Haryana India. Today He is the only representative of Supreme Almighty God Kabir Saheb who can make us reach our Supreme Father at our real home Satlok. Come to the refuge of Sant Rampal Ji Maharaj and take Naam Diksha (Initiation) from Him.