New Year Resolution -Intoxication free Celebration- SA News
New year is approaching, and the plans of partying have reached the level of execution. In New Year's Eve some of us are planning to enjoy at some beach side. While others would stay at their houses and would visit some restaurant or bar. Some of us are planning to buy greeting cards, note greeting cards to gift to relatives. At the same time, you all have some planned Resolutions in your minds. Every year you take some resolutions but could not keep them till the year ends.
At present we have reached to a level that no celebration is complete without boozing and intoxication. This is making our society hollow as lack of consciousness after intoxication leads to many problems and crimes. The number of cases of rape and sexual assault are increasing because of it at an alarming rate. Intoxication also cause accidents or leads to casualty.
It is sad that most of you take Resolutions when you are intoxicated on new year. Researches shows that an intoxicated person doesn't have sense of attentiveness. Some reports say that Thanksgiving Eve and New Year's Day are the most dangerous time of year for alcohol-related problems.
Alcohol causes serious life-threatening problems.
• Decrease attention
• Slow reactions to the situations
• Impaired co-ordinations
• Reduced muscle strength
• Impairment of visual functions
All the above listed issues may lead you to loss of your life.
Don't you think, your life is precious and there is not UNDO option once you have lost your life.
I do agree that everyone have their own way of having fun at new year, but this fun is eating up our society. If you have planned to have drink during new year eve, you might have last party of your life. Excuse me please, I am very blunt while sharing the facts that no one knows what will happen in next moment of life.
Static shows that nearly 1.5 lakh people lost their lives in 2015 in India due to drunk and drive. This number has increased by 53.9% over the last decade and tenfold increase since 1970. So, you might be one of them this time because you have planned to take first step towards take you own life. If you are part of that group who love to enjoy having alcohol during new year celebration, you might not at fault because these celebrations are represented in tv and in cinema as if they are the best means of enjoyment and life is incomplete without them. Such broadcasting helps such activities to make a profound place in the minds of public and specially in the minds of youth as a result of which our generations are getting crippled.
I know you are trying to get rid of such bad habits of consuming alcohol and other drugs but all in vain.
Have you ever thought, WHY?
Yes, you are correct. Lack of will power is one of the common issue you all are facing.
I had the same problem, but ONE SINGLE RESOLUTION transformed my life entirely. I am a new personality who don't wait for any celebration.
Every day is a celebration for me!
Do you want to know what is the SUPER SECRET Of my life?
Relax!!
You all would have the same life that I am leading if you dare to know about spiritual Knowldege imparted by Saint Rampal ji Maharaj.
In our life we come across too many occasions of happiness. And we very well know that such happiness is short term in nature. And we don't have any security of having happiness permanently here. It's possible that at this moment we are enjoying and in next moment grief takes the place of happiness. Saint Rampalji Maharaj exemplifies it by quoting a real-life incident which is about a family who were enjoying the marriage of the son. And on next day the bridegroom and the brother in laws of the groom get killed in the accident. The whole family which was dancing and enjoying a day before was sobbing in tears next day. This can happen with anyone.
Our life is not meant for enjoyment. Saint Rampalji Maharaj explained that we are given human body to get rid of the cycle of death and birth. But the Kaal who is the source of bad energy indulges us in useless activities so that we can never achieve salvation. But the supreme God Kabir saheb comes to awaken us. But he can help us only when we live in this world just like Sita used to live in Lanka when Ravan kidnapped her. If Sita would have lived happily in Lanka then Ram would not have freed her. Similar is the condition of ours.
You would have taken many New Year's resolution that may have get completed. But this new year take the resolution to leave intoxication permanently. This resolution can be achieved by reading 'Jine Ki Raah' book written by Saint Rampalji Maharaj which can be ordered free of cost from our website.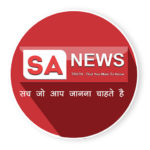 SA News Channel is one of the most popular News channels on social media that provides Factual News updates. Tagline: Truth that you want to know