Secrets of Govardhan Puja
Diawali is a festival of 'Diyas'. Sweets, new-dresses, rangoli, crackers and gifts. Children eagerly wait for this festival. Diwali is also called Deepavali, Dipavali, Diwali, Deepawali, or the festival of lights. Diwali is celebrated in October or November each year. Diwali is celebrated for five consecutive days.
Day one Dhanteras (Day of Fortune), which is falling on October 25, 2019. Day two Naraka Chaturdasi (Day of Knowledge), which is falling on October 26, 2019. Day three Laxmi Puja/Diwali (Day of Light), which is falling on October 27, 2019. Day four Govardhan Puja (New Year) which is falling on October 28,2019. Day five (Day of Love between siblings) which is the last day of Diwali celebration Bhai Duj, which is falling on October 30, 2019.
Govardhan Puja is the next day of Laxmi Pujan. Govardhan Puja one of the auspicious festivals of the Hindus is celebrated the day after Diwali in the month of Kartik according to Hindu calendar. Govardhan puja is also called "Padwa" or "Varshapratipada" or "Anna –koot". Anna-koot which means 'mountain of food'. Govardhan Puja marks the victory of Shri Krishna over the arrogance of King Indra. Govardhan Puja is mainly celebrated in North Indian states of Punjab, Haryana, Uttar Pradesh and Bihar.
Significance of Govardhan Puja
There are many ways in which Govardhan Puja is performed. People show their gratitude towards the Lord. One ritual involves making small mounds of cow dung or dirt symbolizing Mount Govardhan, which are then adorned with flowers and are later worshipped by circumambulating around them. Prayers are also made to Lord Govardhan. People do offer fifty six or one hundred and eight varieties of different recipes for Shri Krishna and this offering is referred to as 'Bhog'.
Padwa
The day following 'Amavasya', which is the fourth day of the Diwali celebrations also marks the day when king Bali came out of the 'Patal lok' which is the nether land. Also, this is the day when he would start ruling the 'Bhoo lok' (earth), which was given to him as a blessing by God Vishnu. Hence, this day is famously known as 'Bali Padyami'. In India, it is celebrated as New Year in many states because Vikram Samvat starts on this day.
Story behind Govardhan Puja
According to the Hindu Epic "Vishnu Puran", the people of Gokul, Mathura used to worship King Indra for providing them with rains. They believed that it was him who blessed them with the rains for their welfare.
But Shri Krishna explained to them that it was Mount Govardhan (a small hillock situated at Braj, near Mathura) which caused the rain and not King Indra. So the people followed Shri Krishna and stopped worshipping King Indra.
This made King Indra really furious and as a result of his anger of not being worshipped, the people of Gokul had to face heavy rains. Shri Krishna came to the people's rescue and, he lifted Mount Govardhan as an umbrella on the little finger of his right hand in order to provide shelter to the people.
Here, Shri Krishna ji is telling to not worship gods and goddesses as they are not giver of foodgrains, happiness, life, home, rain, shelter, joy etc. The giver of everything is the Supreme God.
Our Holy Books talk about true worship
Shrimad Bhagwad Gita has asked the devotees to seek the refuge of Supreme Almighty to attain Eternal peace and salvation in Chapter 18 verse 62 and 66.
Shrimad Bhagwad Gita has made a mention of Supreme Almighty in Chapter 15 verse 17.
Secrets Of Govardhan Puja

|| Govardhan Shri Krishna Dhrayo, Dhorangiri hanumanth|
Shash Naag Sari Sarsti utharya, inme kon Bhagwanth||
Kabir Saheb ji said in his sacred speech that you call Shri Krishna the Supreme Lord only because he lifted Govardhan hill on his finger. But what about Shri Hanuman, who also lifted a similar mountain called Dronagiri and traveled with it across the oceans. Why don't you call him God too?
Then there is a thousand-headed huge serpent called "Sheshnag" in Hindu mythology, who is said to be lifting the whole earth. If you address someone as the Supreme God only based on their ability to lift a mountain than the Sheshnag must be the supreme of all other deities. Almighty God Kabir wants to make us understand that Shri Krishna is not the Supreme God.
Worshipping the natural elements has always been a practice in Hinduism. The main reason for worship has always been the conservation and protection of exhaustible natural resources. Salvation cannot be attained by futile activities or practicing rituals like worshipping mountains, trees, rivers, stones, pilgrim, cow or reciting some mantras like 'Om Namah Shivaya', Radhe-Radhe, 'Radhe-Radhe Shyam Mila de', 'Om Namo Bhagvate Vasudevaye Namah' etc, or taking initiation from incomplete sage which is not mentioned in our Holy Scriptures. Again in Shrimad Bhagwad Gita Chapter 7 verses 12 to 15 clearly tells that only fools and fallen people with demonic nature worship the three Gunas; Brahma-Rajgun, Vishnu-Satgun and Tamgun-Shiv.
The Sacred speech
||Mukti khet Mathurapuri waah, kinha Krishn kilole aur Kansh jese chanore se vaha firthe dama dol ||
Meaning: -People believe Mathura is a place to attain salvation because there Shri Krishna had spent his childhood but in the same place Kansh also died. So, here worshipping any place is not compulsory. You can do true worship anywhere in the world.
Our Holy Books talk about Salvation
Shrimad Bhagwad Gita has made a mention of Supreme Almighty in Chapter 15 verse 17.
When we are in the asylum of an enlightened sage and practice scripture-based worship under his guidance, then we will always have peace, wealth, health, prosperity and get relief from worldly pressure forever after attaining salvation.
Identification of an enlightened sage
The distinctive feature of an enlightened sage has been elaborated in Shrimad Bhagwat Gita in Chapter 15 verses 1 to 4.
In today's world, there is only one enlightened sage on planet earth who is well acquainted not only with all the holy scriptures but also with Almighty and his constitution. He is the one who has openly shown all the evidence in our Holy Scriptures from all religions that not only Almighty is in form but can be attained easily at the same time. Sant Rampal Ji Maharaj from Hisar; Haryana is that enlightened sage who is giving the complete knowledge about the supreme Almighty God Kabir through his Spiritual sermons. Vedas also sing the glory of Supreme God Kabir Saheb.
Proof:- Yajurveda Chapter 5 verse 32 describes God as the one who is the giver of Supreme Peace /Happiness. He can destroy all the sins and his name is KavirDev (God Kabir). He is also the Liberator.
On this Diwali let's learn and understand the true worship according to Scripture-based knowledge, get all the benefits of true worship and ensure the safety and happiness of our loved ones.
To know more in detail, please visit www.supremegod.org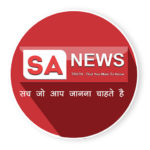 SA News Channel is one of the most popular News channels on social media that provides Factual News updates. Tagline: Truth that you want to know