Last Updated on 3 February 2023, 4:04 PM IST: World Cancer Day 2023: Organized on the 4th of February and led by the Union for International Cancer Control (UICC), World Cancer Day is a global initiative aimed at promoting greater awareness of cancer and movement to better prevent, diagnose and treat the disease. Know its significance, History, Theme for this year, along with a cure for it.
World Cancer Day 2023: Key Points
World Cancer Day happens to be on 4th February every year.
This day aims at delivering the right information about cancer to most of the people and thus developing awareness.
The first ever World Cancer Day was celebrated in the year 2000 at the World Summit Against Cancer held in Paris.
World Cancer Day was initiated by the Union for International Cancer Control (UICC).
World Cancer Day 2023 theme is 'Close The Care Gap'. 
Cancer is now curable, True Devotion or Sat-Bhakti of the Supreme God Kabir is the treatment of every such life threatening disease.
What Is World Cancer Day?
World Cancer Day is an international worldwide event celebrated annually on the 4th of February. It is an initiative led by the Union for International Cancer Control (UICC) for unifying the entire globe in making awareness about the types of cancer, its causes and thus urging everyone to take precautionary measures for preventing it.
What Is the Theme of World Cancer Day 2023? 
World Cancer Day 2023: This year's theme on World Cancer Day is 'Close The Care Gap'.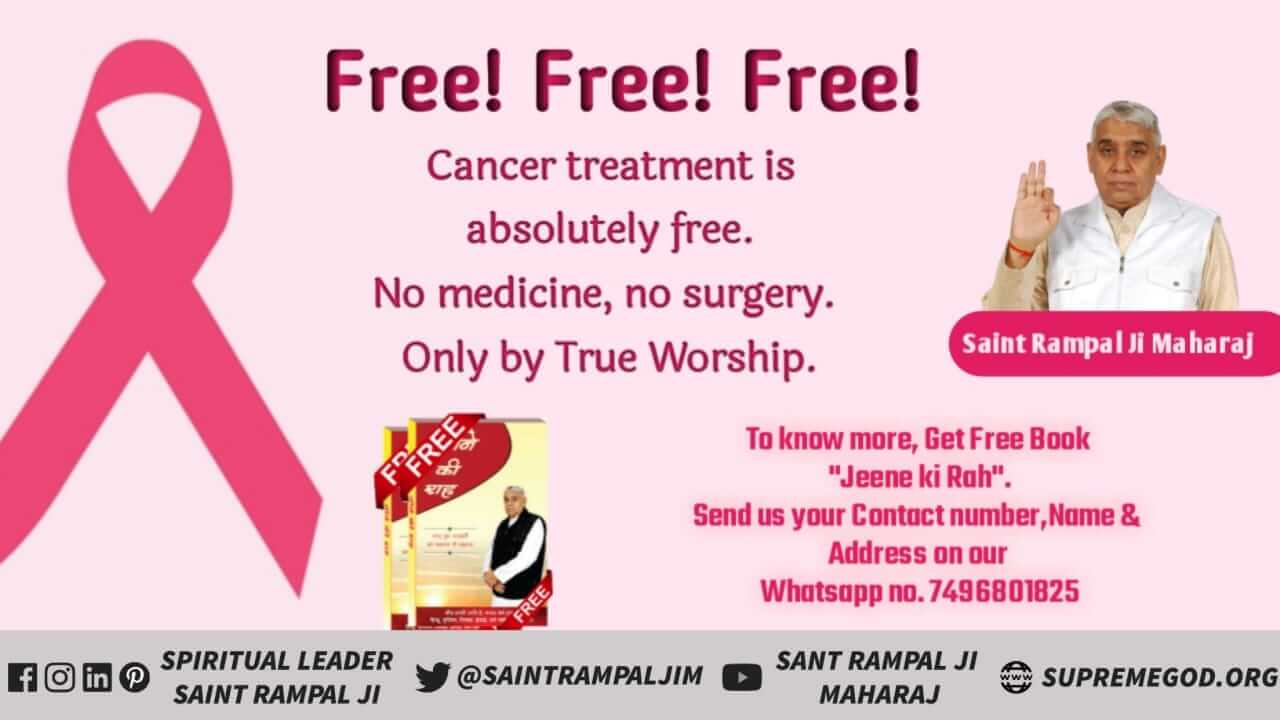 World Cancer Day 2023 marks the first year of a new three-year campaign focusing on the issue of equality. The theme of the 'Close the Care gap' campaign recognizes the power of knowledge and the challenges of reflection. This first year of the campaign raises awareness about inequality in cancer care and describes the barriers that many people face in getting the help and care they need – and how these barriers can reduce a person's chances of surviving cancer. 
■ Also Read: Understanding the true cause of Cancer
What Is the History of World Cancer Day?
World Cancer Day first came into existence in the year 2000 at the World Cancer Summit held in Paris. This day was initiated by UICC observing the rapid rise in the deaths caused by cancer.
It has been observed that one out of six people died from cancer which is way more than the combination of HIV/AIDS, tuberculosis and malaria. And every year almost 9 million people lose their lives from cancer. Thus arises a need to make people educated about the do's and don'ts in order to save them from cancer.
What Is Done on World Cancer Day?
The cancer community will make their voice heard around the world, generate enthusiasm and action, raise awareness of the need to close the gap in cancer care and ensure universal access to life-saving services,
Get the #WorldCancerDay and #CloseTheCareGap leading on social media.
Full day live content is broadcasted on the World Cancer Day website and World Cancer Day Facebook and YouTube channels that offer an unusual view of community cancer work.
Interviews with specialists and people living with cancer taking a closer look at socio-economic factors, such as cultural backgrounds, gender norms, income and education levels, as well as age-based discrimination and discrimination based on gender, sexual orientation, nationality, disability and lifestyle that makes the difference in cancer prevention, incidence and survival.
The second edition of the World Cancer Day Solidarity Challenge, which will see thousands of cyclists, runners and other sports celebrities raise awareness about cancer.
For those who are still planning a project, plenty of materials are available for download on the World Cancer Day website.
World Cancer Day 2023 Quotes
"Cancer can touch you, but not your soul; neither your thoughts nor your heart." – Vikrmn.
"Adopt Sat-Bhakti by Soul. Cancer will run away." – SatGuru Rampal Ji Maharaj
"Love and laughter are two of the most important universal cancer treatments on the planet. Overdose on them." – Tanya Masse.
"Cancer is not the ultimatum. Almighty has the power to win the battle. Follow Sat-Bhakti." – SatGuru Rampal Ji Maharaj
"You know, once you've stood up to cancer, everything else feels like a pretty easy fight." – David H. Koch.
"Cancer is tough, but your bhakti is tougher to eliminate it. Take Naam Initiation." – SatGuru Rampal Ji Maharaj
"We have two options, medically and emotionally: give up or fight like hell." – Lance Armstrong.
"Cancer might be scary, but your true devotion is no joke. Take refuge from a SatGuru to bestow Sat-Bhakti."
"Cancer is a marathon – you can't look at the finish line. You take it moment by moment, sometimes breath by breath, other times step by step." -Shared by Sarah Betz Bucciero.
Wide Success of Last Year's Campaign Follows This Year
This year follows the success of last year's campaign in the wake of the epidemic, with more than 840 events occurring in 116 countries. Moreover 152 monuments in 91 cities lit up in color orange on World Cancer Day, more than 20,000 news articles published in 156 countries, and about 700,000 social media platforms have been distributed which include high levels from US President Joe Biden, French President Emanuel Macron and British Prime Minister Boris Johnson. More than 110,000 campaign items have been downloaded from the website, with 50,000 custom posters created by visitors.
Cancer Is Now Curable: Sat Bhakti Is the Solution
Spirituality has always had an upper hand over scientific ways. And has been proved a solution in the case of curing cancer, at any stage of identifying its detection. By doing Sat-Bhakti of the Supreme God Kabir by the recitation of mantras in accordance with Holy Scriptures, one can get relieved from any sort of deadly disease.
Currently, Saint Rampal Ji Maharaj from the holy land of Haryana, India is one and only true representative of Supreme God Kabir present on this planet earth. And, He is giving us the recitation of mantras as per Holy Book (Scriptures).
Along with this He is guaranteeing that Sat Bhakti (the true mantras) which can cure any of your deadly diseases including cancer if a devotee abides by the rules given by Him.
Can Recitation of Mantras Really Cure Cancer?
World Cancer Day 2023: In a world of such advanced technology, it is very hard for a common man to believe that with just recitation of mantras the problem of cancer can end, which is a headache for mankind. But it is true and has been proven.
So on this World Cancer day, let us adopt Sat Bhakti by taking Naam Diksha (Initiation) from Saint Rampal Ji Maharaj and remove cancer from its roots.