When you are planning to go out for vacations you plan many things such as a good place you would like to visit, the distance,the means of mode, the weather and many other things. You make sure everything should be smoothly planned .You apply for holidays because your children already have their vacations starting soon. You don't want to disappoint them. For spending gala time with them you would do everything because you love your family and you think that's your duty to take them out for few days.
But Dear , have you ever thought to secure your lovely family. Mind it! I am not promoting any Life assurance/insurance brand to you. When the matter of security comes why do you become so lethargic like you never wish to care them. There is only one thing which can give you insurance and assurance to have peaceful life you never had or you may wished for. It's your responsibility being the head of the family to provide them all the affection and safety. Remember, you can't guard them everywhere.There is one who can guard all of us all the time and that's supreme , powerful ,omnipresent and visible .He has lot of beautiful plans for you and for your family.He wants you to smile forever because you are His child.
He is waiting for you to plan your future so that you can feel safe residing at his feet. There is no one like God who can protect us from all the vices of the world.God can save us from all the dangers and untimely death and can provide you everything you never think of. Before planning your vacation start your life according to Him as He is the best planner. Come in His shelter and be free from all the worries of life.
Watch Him on Ishwar channel everyday at 8.30-9.30 PM
WATCH THIS VIDEO…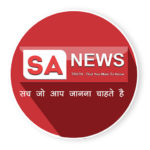 SA News Channel is one of the most popular News channels on social media that provides Factual News updates. Tagline: Truth that you want to know